Raspberry-Apple-Granola Crisp
(function() { document.addEventListener('DOMContentLoaded', function() { var componentMetadata = JSON.parse('\x7b\x22componentName\x22\x3a\x22ActionToolbar_d18dfe36-3394-4e49-bf57-52ab418ad4c1\x22,\x22deferOptions\x22\x3a\x7b\x22deferComponent\x22\x3afalse,\x22deferType\x22\x3a\x22None\x22,\x22deferId\x22\x3a\x22rab56cdfa37254cca9e1c609e0429dc35\x22,\x22deferredContainerId\x22\x3a\x22\x2fmain\x2finlineActionToolbarMobile\x22,\x22deferredContainerView\x22\x3anull\x7d,\x22viewName\x22\x3a\x22ActionToolbar\x22\x7d'); var configuration = {"contentId":"7b672e11-273f-4100-8f8d-2ebb20c1e6e2","toolbarSettings":{"id":"d18dfe36-3394-4e49-bf57-52ab418ad4c1","registrationUrl":"/GMI/CoreSites/LMD/Home/register/reg-fp","regAction":"FAVORITE","eSourceCode":11275,"namePassedToEvents":"RDPToolbarBODY","buttons":[{"addFavoriteErrorMessage":"Sorry, something went wrong. Please save again.","removeFavoriteErrorMessage":"Error occurred while removing from favorites","registrationUrl":"/GMI/CoreSites/LMD/Home/register/reg-fp","regAction":"FAVORITE","eSourceCode":11275,"isCurrentUserAnonymous":false,"isFavoriteItem":false,"id":"da1329ec-d8ca-400f-8617-3812c7cea506","allowedForAnonymousUsers":false,"type":"Favorite","displayName":"Save Recipe","namePassedToEvents":"Favorite","cssClassName":"atButtonFavorite"},{"providerName":"pinterest","providerNamePassedToEvents":"Pinterest","privacyOptOut":false,"privacyOptOutMessage":"\u003cdiv class=\u0027privacyMessage\u0027\u003e\n\u003ch3\u003eThis feature is not available with your current cookie settings.\u003c/h3\u003e\n\u003cp\u003eYou can \u003ca href=\u0027#\u0027 data-show-preference-center=\u00271\u0027\u003eupdate your privacy settings\u003c/a\u003e to enable this content. Please enable "Functional Cookies" to use this feature.\u003c/p\u003e\n\u003c/div\u003e","shareUrlFormat":"//pinterest.com/pin/create/link/?url={0}","id":"717170c7-8508-473c-9da4-3b76d65c86eb","allowedForAnonymousUsers":true,"type":"Social","displayName":"Pinterest","namePassedToEvents":"Pinterest","cssClassName":"atButtonPinterest"},{"providerName":"facebook","providerNamePassedToEvents":"Facebook","privacyOptOut":false,"privacyOptOutMessage":"\u003cdiv class=\u0027privacyMessage\u0027\u003e\n\u003ch3\u003eThis feature is not available with your current cookie settings.\u003c/h3\u003e\n\u003cp\u003eYou can \u003ca href=\u0027#\u0027 data-show-preference-center=\u00271\u0027\u003eupdate your privacy settings\u003c/a\u003e to enable this content. Please enable "Functional Cookies" to use this feature.\u003c/p\u003e\n\u003c/div\u003e","shareUrlFormat":"//facebook.com/sharer/sharer.php?u={0}","id":"822d65bb-1681-4e15-a1e9-7f710dacebda","allowedForAnonymousUsers":true,"type":"Social","displayName":"Facebook","namePassedToEvents":"Facebook","cssClassName":"atButtonFacebook"},{"templateId":"9ad0c975-3420-4a6f-b051-5451375d6cf3","dialogHeading":"Email Recipe","emailCode":"LMD_ContentEmailEN","dialogSettings":{"cancelButtonText":"Cancel","copyToSenderLabel":"Send a Copy to Myself","emailAddressesLabel":"* Email Address(es)","emailInstructionText":"Separate email addresses with commas","fromText":"From:","privacyPolicyText":"\u003cp\u003e\u0026copy;2023 General Mills, Inc. All Rights Reserved. This information will only be used to send an email to your friend(s) and will not be saved. Please read our \u003ca rel=\u0022noopener noreferrer\u0022 rel=\u0022noopener noreferrer\u0022 href=\u0022https://www.lifemadedelicious.ca/Home/privacy-policy\u0022 target=\u0022_blank\u0022 shape=\u0022rect\u0022\u003ePrivacy Policy\u003c/a\u003e.\u003c/p\u003e","requiredFieldText":"* Required","sendButtonText":"Send","senderEmailAddressLabel":"* Your Email Address","senderFirstNameLabel":"* Your First Name","sendToText":"Send To:"},"recaptchaPublicKey":"6LfV_icUAAAAAJakoUTv-L6S9c3T3X64J3Ba9cZS","id":"1d0ac1f7-16bf-42f0-98e7-6cf9fb88f0d8","allowedForAnonymousUsers":true,"type":"Email","displayName":"Email","namePassedToEvents":"Email","cssClassName":"atButtonEmail"}],"isSticky":false},"userSettings":{"isCurrentUserAnonymous":true,"isFavoriteItem":false,"privacyOptOut":false},"pageAttributes":{"url":"http%3a%2f%2fwww.lifemadedelicious.ca%2frecipes%2fraspberry-apple-granola-crisp%2f7b672e11-273f-4100-8f8d-2ebb20c1e6e2","contentId":"7b672e11-273f-4100-8f8d-2ebb20c1e6e2"}}; var moduleName = 'actionToolbar'; var isVueModule = true; GeneralMills.PandoSites.RegisterControlInstance(moduleName, configuration, componentMetadata, isVueModule) }); })();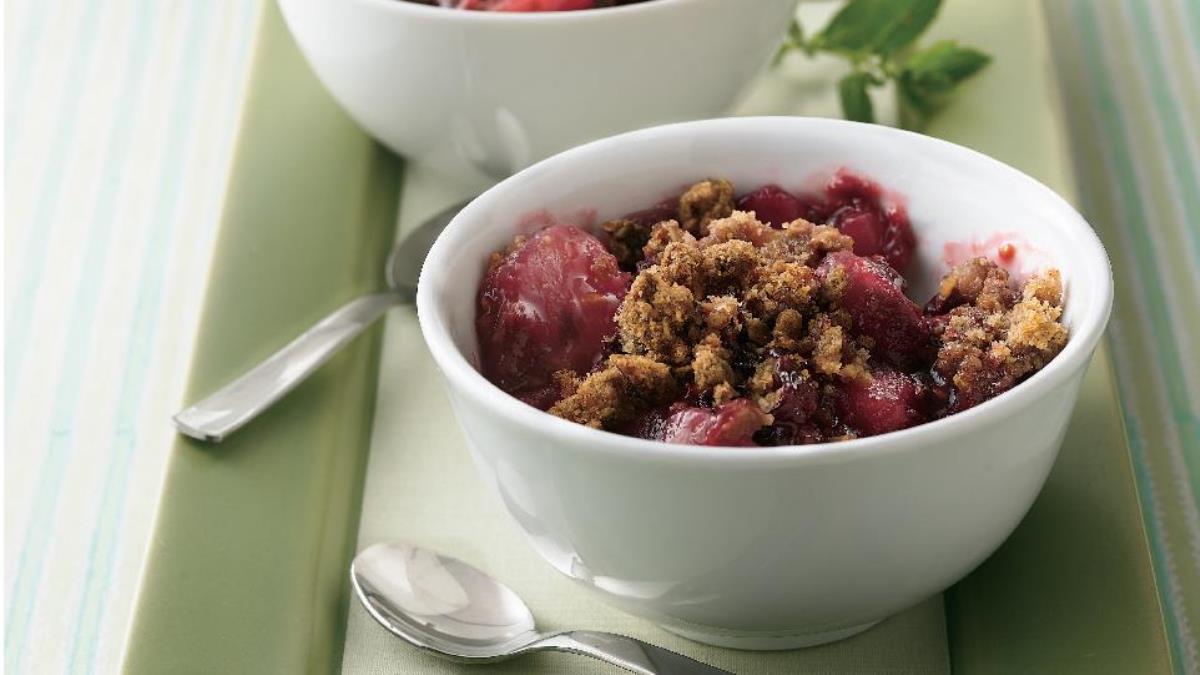 Prep

25

min

Total

1

hr

30

min

Servings

9
Save

Pinterest

Facebook

Email

Print
(function() { document.addEventListener('DOMContentLoaded', function() { var componentMetadata = JSON.parse('\x7b\x22componentName\x22\x3a\x22ActionToolbar_edb26bc8-7c1f-4783-b2c1-9855d36e130a\x22,\x22deferOptions\x22\x3a\x7b\x22deferComponent\x22\x3afalse,\x22deferType\x22\x3a\x22None\x22,\x22deferId\x22\x3a\x22rd8a40ba5462f46ec93492f97df4f566f\x22,\x22deferredContainerId\x22\x3a\x22\x2fmain\x2finlineActionToolbarDesktop\x22,\x22deferredContainerView\x22\x3anull\x7d,\x22viewName\x22\x3a\x22ActionToolbar\x22\x7d'); var configuration = {"contentId":"7b672e11-273f-4100-8f8d-2ebb20c1e6e2","toolbarSettings":{"id":"edb26bc8-7c1f-4783-b2c1-9855d36e130a","registrationUrl":"/GMI/CoreSites/LMD/Home/register/reg-fp","regAction":"FAVORITE","eSourceCode":11275,"namePassedToEvents":"RDPToolbarBODY","buttons":[{"addFavoriteErrorMessage":"Sorry, something went wrong. Please save again.","removeFavoriteErrorMessage":"Error occurred while removing from favorites","registrationUrl":"/GMI/CoreSites/LMD/Home/register/reg-fp","regAction":"FAVORITE","eSourceCode":11275,"isCurrentUserAnonymous":false,"isFavoriteItem":false,"id":"6f6aac70-ffa0-4e45-8966-75724e41c552","allowedForAnonymousUsers":false,"type":"Favorite","displayName":"Save","namePassedToEvents":"Favorite","cssClassName":"atButtonFavorite"},{"providerName":"pinterest","providerNamePassedToEvents":"Pinterest","privacyOptOut":false,"privacyOptOutMessage":"","shareUrlFormat":"//pinterest.com/pin/create/link/?url={0}","id":"067096d1-2b5d-4b0f-b308-a3ff8e442269","allowedForAnonymousUsers":true,"type":"Social","displayName":"Pinterest","namePassedToEvents":"Pinterest","cssClassName":"atButtonPinterest"},{"providerName":"facebook","providerNamePassedToEvents":"Facebook","privacyOptOut":false,"privacyOptOutMessage":"","shareUrlFormat":"//facebook.com/sharer/sharer.php?u={0}","id":"f2163a39-1763-4c91-9e38-83644daac87a","allowedForAnonymousUsers":true,"type":"Social","displayName":"Facebook","namePassedToEvents":"Facebook","cssClassName":"atButtonFacebook"},{"templateId":"9ad0c975-3420-4a6f-b051-5451375d6cf3","dialogHeading":"Email Recipe","emailCode":"LMD_ContentEmailEN","dialogSettings":{"cancelButtonText":"Cancel","copyToSenderLabel":"Send a Copy to Myself","emailAddressesLabel":"* Email Address(es)","emailInstructionText":"Separate email addresses with commas","fromText":"From:","privacyPolicyText":"\u003cp\u003e\u0026copy;2023 General Mills, Inc. All Rights Reserved. This information will only be used to send an email to your friend(s) and will not be saved. Please read our \u003ca rel=\u0022noopener noreferrer\u0022 rel=\u0022noopener noreferrer\u0022 href=\u0022https://www.lifemadedelicious.ca/Home/privacy-policy\u0022 target=\u0022_blank\u0022 shape=\u0022rect\u0022\u003ePrivacy Policy\u003c/a\u003e.\u003c/p\u003e","requiredFieldText":"* Required","sendButtonText":"Send","senderEmailAddressLabel":"* Your Email Address","senderFirstNameLabel":"* Your First Name","sendToText":"Send To:"},"recaptchaPublicKey":"6LfV_icUAAAAAJakoUTv-L6S9c3T3X64J3Ba9cZS","id":"59d613d7-98aa-4240-abfc-2627b367c2d2","allowedForAnonymousUsers":true,"type":"Email","displayName":"Email","namePassedToEvents":"Email","cssClassName":"atButtonEmail"},{"layoutParameter":"p%3d1","id":"ae60c36b-e70d-4c6d-a9bc-a11eda54e13e","allowedForAnonymousUsers":true,"type":"Print","displayName":"Print","namePassedToEvents":"Print","cssClassName":"atButtonPrint"}],"isSticky":false},"userSettings":{"isCurrentUserAnonymous":true,"isFavoriteItem":false,"privacyOptOut":false},"pageAttributes":{"url":"http%3a%2f%2fwww.lifemadedelicious.ca%2frecipes%2fraspberry-apple-granola-crisp%2f7b672e11-273f-4100-8f8d-2ebb20c1e6e2","contentId":"7b672e11-273f-4100-8f8d-2ebb20c1e6e2"}}; var moduleName = 'actionToolbar'; var isVueModule = true; GeneralMills.PandoSites.RegisterControlInstance(moduleName, configuration, componentMetadata, isVueModule) }); })();
(function() { document.addEventListener('DOMContentLoaded', function() { var componentMetadata = JSON.parse('\x7b\x22componentName\x22\x3a\x22WakeLock_3cc1a3d7-6b3e-46c1-a356-e6a5352038ba\x22,\x22deferOptions\x22\x3a\x7b\x22deferComponent\x22\x3afalse,\x22deferType\x22\x3a\x22None\x22,\x22deferId\x22\x3a\x22r0d84a1aa4d2546a684d4d62bb171165d\x22,\x22deferredContainerId\x22\x3a\x22\x2fmain\x2frdpWakeLockTop\x22,\x22deferredContainerView\x22\x3anull\x7d,\x22viewName\x22\x3a\x22WakeLock\x22\x7d'); var configuration = {"heading":"Ready to make?","button":{"errorMessage":"","id":"76dcbea3-f5dd-4c94-afab-8fb88a715404","allowedForAnonymousUsers":true,"type":"WakeLock","displayName":"Keep Screen On","namePassedToEvents":"Wakelock","cssClassName":""}}; var moduleName = 'wakeLockShared'; var isVueModule = true; GeneralMills.PandoSites.RegisterControlInstance(moduleName, configuration, componentMetadata, isVueModule) }); })();
Save

Share

Keep Screen On
(function() { document.addEventListener('DOMContentLoaded', function() { var componentMetadata = JSON.parse('\x7b\x22componentName\x22\x3a\x22ActionToolbar_df074d3f-5da0-436a-967c-b8982c9bac0f\x22,\x22deferOptions\x22\x3a\x7b\x22deferComponent\x22\x3afalse,\x22deferType\x22\x3a\x22None\x22,\x22deferId\x22\x3a\x22rdc4f6a3d2fcd4a4aa184a1b1de803eb4\x22,\x22deferredContainerId\x22\x3a\x22\x2fmain\x2fdockingActionToolbar\x22,\x22deferredContainerView\x22\x3anull\x7d,\x22viewName\x22\x3a\x22ActionToolbar\x22\x7d'); var configuration = {"contentId":"7b672e11-273f-4100-8f8d-2ebb20c1e6e2","toolbarSettings":{"id":"df074d3f-5da0-436a-967c-b8982c9bac0f","registrationUrl":"/GMI/CoreSites/LMD/Home/register/reg-fp","regAction":"FAVORITE","eSourceCode":11275,"namePassedToEvents":"RDPToolbarSTICKY","buttons":[{"addFavoriteErrorMessage":"Sorry, something went wrong. Please save again.","removeFavoriteErrorMessage":"Error occurred while removing from favorites","registrationUrl":"/GMI/CoreSites/LMD/Home/register/reg-fp","regAction":"FAVORITE","eSourceCode":11275,"isCurrentUserAnonymous":false,"isFavoriteItem":false,"id":"6f6aac70-ffa0-4e45-8966-75724e41c552","allowedForAnonymousUsers":false,"type":"Favorite","displayName":"Save","namePassedToEvents":"Favorite","cssClassName":"atButtonFavorite"},{"nestedButtons":[{"layoutParameter":"p%3d1","id":"bd26014a-b182-4ef2-a496-f791f5fd3db9","allowedForAnonymousUsers":true,"type":"Print","displayName":"Print Recipe","namePassedToEvents":"Print","cssClassName":"atButtonPrint"},{"providerName":"pinterest","providerNamePassedToEvents":"Pinterest","privacyOptOut":false,"privacyOptOutMessage":"\u003cdiv class=\u0027privacyMessage\u0027\u003e\n\u003ch3\u003eThis feature is not available with your current cookie settings.\u003c/h3\u003e\n\u003cp\u003eYou can \u003ca href=\u0027#\u0027 data-show-preference-center=\u00271\u0027\u003eupdate your privacy settings\u003c/a\u003e to enable this content. Please enable "Functional Cookies" to use this feature.\u003c/p\u003e\n\u003c/div\u003e","shareUrlFormat":"//pinterest.com/pin/create/link/?url={0}","id":"fd510c44-38cc-4ce2-8f39-fcdae5bba458","allowedForAnonymousUsers":true,"type":"Social","displayName":"Save To Pinterest","namePassedToEvents":"Pinterest","cssClassName":"atButtonPinterest"},{"templateId":"9ad0c975-3420-4a6f-b051-5451375d6cf3","dialogHeading":"Email Recipe","emailCode":"LMD_ContentEmailEN","dialogSettings":{"cancelButtonText":"Cancel","copyToSenderLabel":"Send a Copy to Myself","emailAddressesLabel":"* Email Address(es)","emailInstructionText":"Separate email addresses with commas","fromText":"From:","privacyPolicyText":"\u003cp\u003e\u0026copy;2023 General Mills, Inc. All Rights Reserved. This information will only be used to send an email to your friend(s) and will not be saved. Please read our \u003ca rel=\u0022noopener noreferrer\u0022 rel=\u0022noopener noreferrer\u0022 href=\u0022https://www.lifemadedelicious.ca/Home/privacy-policy\u0022 target=\u0022_blank\u0022 shape=\u0022rect\u0022\u003ePrivacy Policy\u003c/a\u003e.\u003c/p\u003e","requiredFieldText":"* Required","sendButtonText":"Send","senderEmailAddressLabel":"* Your Email Address","senderFirstNameLabel":"* Your First Name","sendToText":"Send To:"},"recaptchaPublicKey":"6LfV_icUAAAAAJakoUTv-L6S9c3T3X64J3Ba9cZS","id":"f0779e23-0418-4648-ab4e-6c9c795fafa4","allowedForAnonymousUsers":true,"type":"Email","displayName":"Share via Email","namePassedToEvents":"Email","cssClassName":"atButtonEmail"},{"providerName":"facebook","providerNamePassedToEvents":"Facebook","privacyOptOut":false,"privacyOptOutMessage":"\u003cdiv class=\u0027privacyMessage\u0027\u003e\n\u003ch3\u003eThis feature is not available with your current cookie settings.\u003c/h3\u003e\n\u003cp\u003eYou can \u003ca href=\u0027#\u0027 data-show-preference-center=\u00271\u0027\u003eupdate your privacy settings\u003c/a\u003e to enable this content. Please enable "Functional Cookies" to use this feature.\u003c/p\u003e\n\u003c/div\u003e","shareUrlFormat":"//facebook.com/sharer/sharer.php?u={0}","id":"d17d1726-3e67-4b4e-92e4-664f5602c3a1","allowedForAnonymousUsers":true,"type":"Social","displayName":"Share on Facebook","namePassedToEvents":"Facebook","cssClassName":"atButtonFacebook"},{"successMessage":"Copied.","errorMessage":"Press Ctrl+C and Enter to copy to clipboard","successMessageDuration":3000,"errorMessageDuration":10000,"id":"88277bbd-dc03-4061-b48e-d17adef2befb","allowedForAnonymousUsers":true,"type":"CopyLink","displayName":"Copy Link","namePassedToEvents":"Copy","cssClassName":"atButtonCopyLink"}],"id":"34b02711-f190-48a8-bbf5-6c40991c0b31","allowedForAnonymousUsers":true,"type":"Reveal","displayName":"Share","namePassedToEvents":"Share","cssClassName":"atButtonReveal"},{"errorMessage":"","id":"76dcbea3-f5dd-4c94-afab-8fb88a715404","allowedForAnonymousUsers":true,"type":"WakeLock","displayName":"Keep Screen On","namePassedToEvents":"Wakelock","cssClassName":""}],"isSticky":true},"userSettings":{"isCurrentUserAnonymous":true,"isFavoriteItem":false,"privacyOptOut":false},"pageAttributes":{"url":"http%3a%2f%2fwww.lifemadedelicious.ca%2frecipes%2fraspberry-apple-granola-crisp%2f7b672e11-273f-4100-8f8d-2ebb20c1e6e2","contentId":"7b672e11-273f-4100-8f8d-2ebb20c1e6e2"}}; var moduleName = 'actionToolbar'; var isVueModule = true; GeneralMills.PandoSites.RegisterControlInstance(moduleName, configuration, componentMetadata, isVueModule) }); })();
Ingredients
5 cups (1.25 L) sliced peeled apples (5 medium)

3 cups (750 mL) frozen raspberries

1 cup (250 mL) granulated sugar

1/4 cup (50 mL) all-purpose flour

6 Nature Valley* Roasted Almond Crunchy Granola Bars, finely crushed

1/2 cup (125 mL) all-purpose flour

1/4 cup (50 mL) packed brown sugar

1/4 cup (50 mL) butter or margarine, melted

Ice cream, if desired
(function() { document.addEventListener('DOMContentLoaded', function() { var componentMetadata = JSON.parse('\x7b\x22componentName\x22\x3a\x22RecipeIngredients_3cc1a3d7-6b3e-46c1-a356-e6a5352038ba\x22,\x22deferOptions\x22\x3a\x7b\x22deferComponent\x22\x3afalse,\x22deferType\x22\x3a\x22None\x22,\x22deferId\x22\x3a\x22rdab2474a163a4cfe903270e215bbe24a\x22,\x22deferredContainerId\x22\x3a\x22\x2fmain\x2frdpIngredients\x22,\x22deferredContainerView\x22\x3anull\x7d,\x22viewName\x22\x3a\x22RecipeIngredients\x22\x7d'); var configuration = {}; var moduleName = 'recipeIngredients'; var isVueModule = false; GeneralMills.PandoSites.RegisterControlInstance(moduleName, configuration, componentMetadata, isVueModule) }); })();
Steps
1

Heat oven to 350ºF. Spray 8-inch square (2-quart) glass baking dish with nonstick cooking spray.

2

In large bowl, mix apples, raspberries, granulated sugar and 1/4 cup flour. Spoon evenly into baking dish.

3

In medium bowl, mix crushed granola bars, 1/2 cup flour, the brown sugar and butter until crumbly. Sprinkle over apple mixture.

4

Bake 55 to 65 minutes or until top is golden brown and fruit is tender (mixture will be bubbly). Cool slightly. Serve warm or cool with whipped cream or ice cream.
(function() { document.addEventListener('DOMContentLoaded', function() { var componentMetadata = JSON.parse('\x7b\x22componentName\x22\x3a\x22RecipeSteps_3cc1a3d7-6b3e-46c1-a356-e6a5352038ba\x22,\x22deferOptions\x22\x3a\x7b\x22deferComponent\x22\x3atrue,\x22deferType\x22\x3a\x22OnDemand\x22,\x22deferId\x22\x3a\x22r682b24d9d3824031bdc83b85db7d1953\x22,\x22deferredContainerId\x22\x3a\x22\x2fmain\x2frdpSteps\x22,\x22deferredContainerView\x22\x3a\x22RecipeDetail\x22\x7d,\x22viewName\x22\x3a\x22RecipeSteps\x22\x7d'); var configuration = {"initAreImagesHidden":false,"hideImagesEventName":"HideStepShots","showImagesEventName":"ShowStepShots","hideImagesButtonText":"Hide Images","showImagesButtonText":"Show Images","hideImagesClass":"rdpHideStepImages"}; var moduleName = 'recipeStepShots'; var isVueModule = true; GeneralMills.PandoSites.RegisterControlInstance(moduleName, configuration, componentMetadata, isVueModule) }); })();
Nutrition Information
No nutrition information available for this recipe
(function() { document.addEventListener('DOMContentLoaded', function() { var componentMetadata = JSON.parse('\x7b\x22componentName\x22\x3a\x22RecipeNutritionNonPrint_3cc1a3d7-6b3e-46c1-a356-e6a5352038ba\x22,\x22deferOptions\x22\x3a\x7b\x22deferComponent\x22\x3atrue,\x22deferType\x22\x3a\x22Simple\x22,\x22deferId\x22\x3a\x22r4b3bf39362d149cba3eb82431fdb46fc\x22,\x22deferredContainerId\x22\x3a\x22\x2fmain\x2frdpNutrition\x22,\x22deferredContainerView\x22\x3a\x22RecipeDetail\x22\x7d,\x22viewName\x22\x3a\x22RecipeNutritionNonPrint\x22\x7d'); var configuration = {"initIsExpanded":false,"expandEventName":"NutritionExpand","collapseEventName":"NutritionCollapse"}; var moduleName = 'recipeNutrition'; var isVueModule = true; GeneralMills.PandoSites.RegisterControlInstance(moduleName, configuration, componentMetadata, isVueModule) }); })();
© 2023 ®/TM General Mills All Rights Reserved
(function() { document.addEventListener('DOMContentLoaded', function() { var componentMetadata = JSON.parse('\x7b\x22componentName\x22\x3a\x22DoubleClick_c45190e8-920f-4a83-95bf-0a6f56e897c6\x22,\x22deferOptions\x22\x3a\x7b\x22deferComponent\x22\x3atrue,\x22deferType\x22\x3a\x22OnDemand\x22,\x22deferId\x22\x3a\x22rff5e294186a24885b9f8886300c3031b\x22,\x22deferredContainerId\x22\x3a\x22\x2fmain\x2frdpFeatureAd\x22,\x22deferredContainerView\x22\x3a\x22DoubleClick\x22\x7d,\x22viewName\x22\x3a\x22DoubleClick\x22\x7d'); var configuration = {"adId":"lmd/recipes_300x250_top","minPageWidth":"1000","maxPageWidth":"9999","defaultMinPageWidth":"1000","defaultMaxPageWidth":"9999","size":"[[300,250], [300,600]]","refreshWhenViewed":false,"adContainerId":"7002192e-3cfd-4672-b912-af923574d7a7","doubleClickAdContainerId":"4426863e-17e1-4f5f-a472-e1a6a5c79641","adCaptionText":"Advertisement","networkCode":"/21727793496/","relevantMetadata":["Bake","Dessert"],"privacyOptOut":false,"continuesBelowText":"Recipe Continues Below"}; var moduleName = 'doubleClick'; var isVueModule = true; GeneralMills.PandoSites.RegisterControlInstance(moduleName, configuration, componentMetadata, isVueModule) }); })();
(function() { document.addEventListener('DOMContentLoaded', function() { var componentMetadata = JSON.parse('\x7b\x22componentName\x22\x3a\x22DoubleClick_ab86085e-efd3-4de4-a482-42feac8cc09d\x22,\x22deferOptions\x22\x3a\x7b\x22deferComponent\x22\x3atrue,\x22deferType\x22\x3a\x22OnDemand\x22,\x22deferId\x22\x3a\x22r2dbb14f2e24c43b6889e3777c0e3392a\x22,\x22deferredContainerId\x22\x3a\x22\x2fmain\x2frdpFeatureAd\x22,\x22deferredContainerView\x22\x3a\x22DoubleClick\x22\x7d,\x22viewName\x22\x3a\x22DoubleClick\x22\x7d'); var configuration = {"adId":"lmd/recipes_728x90_top","minPageWidth":"768","maxPageWidth":"999","defaultMinPageWidth":"1000","defaultMaxPageWidth":"9999","size":"[[728, 90], [970, 90]]","refreshWhenViewed":false,"adContainerId":"8e181ac2-5733-4fab-bb42-01db4ff2cc41","doubleClickAdContainerId":"82b7cc7e-40df-4509-b5ac-48b81f477a76","adCaptionText":"Advertisement","networkCode":"/21727793496/","relevantMetadata":["Bake","Dessert"],"privacyOptOut":false,"continuesBelowText":"Recipe Continues Below"}; var moduleName = 'doubleClick'; var isVueModule = true; GeneralMills.PandoSites.RegisterControlInstance(moduleName, configuration, componentMetadata, isVueModule) }); })();
(function() { document.addEventListener('DOMContentLoaded', function() { var componentMetadata = JSON.parse('\x7b\x22componentName\x22\x3a\x22DoubleClick_ce9fed80-c574-4dca-af76-2ebf4e544811\x22,\x22deferOptions\x22\x3a\x7b\x22deferComponent\x22\x3atrue,\x22deferType\x22\x3a\x22OnDemand\x22,\x22deferId\x22\x3a\x22ra25dd6a94ce04bdaa9063cd799b00475\x22,\x22deferredContainerId\x22\x3a\x22\x2fmain\x2frdpFeatureAd\x22,\x22deferredContainerView\x22\x3a\x22DoubleClick\x22\x7d,\x22viewName\x22\x3a\x22DoubleClick\x22\x7d'); var configuration = {"adId":"m_lmd/recipes_300x250_top","minPageWidth":"299","maxPageWidth":"767","defaultMinPageWidth":"1000","defaultMaxPageWidth":"9999","size":"[[300,250], [300,600]]","refreshWhenViewed":false,"adContainerId":"8d0457f7-4822-47f5-815b-f0b78afe06d5","doubleClickAdContainerId":"ec4175bb-b0f3-41dc-805c-2c17da112c7d","adCaptionText":"Advertisement","networkCode":"/21727793496/","relevantMetadata":["Bake","Dessert"],"privacyOptOut":false,"continuesBelowText":"Recipe Continues Below"}; var moduleName = 'doubleClick'; var isVueModule = true; GeneralMills.PandoSites.RegisterControlInstance(moduleName, configuration, componentMetadata, isVueModule) }); })();
(function() { document.addEventListener('DOMContentLoaded', function() { var componentMetadata = JSON.parse('\x7b\x22componentName\x22\x3a\x22RelatedContent_18a51953-a085-4bea-b02d-cd3e6509e4fc\x22,\x22deferOptions\x22\x3a\x7b\x22deferComponent\x22\x3atrue,\x22deferType\x22\x3a\x22OnDemand\x22,\x22deferId\x22\x3a\x22r1c3e765f860944ef87b1f9fdaae79a3b\x22,\x22deferredContainerId\x22\x3a\x22\x2fmain\x2frdpRelatedContent1\x22,\x22deferredContainerView\x22\x3a\x22RecipeDetail\x22\x7d,\x22viewName\x22\x3a\x22RelatedContent\x22\x7d'); var configuration = {"dataSourceId":"18a51953-a085-4bea-b02d-cd3e6509e4fc","isCurrentUserAnonymous":true,"relatedContentList":{"contentId":"7b672e11-273f-4100-8f8d-2ebb20c1e6e2","listSettings":{"pageSize":6,"startPage":1,"listType":1,"title":"Try These Next","useModalRegistration":false,"regAction":"","esrcCode":0,"favoriteButtonLabelFormat":"Add {0} to favorites","contentTypes":[],"showImages":true,"showRatings":false,"allowFavoriting":true,"cssClassName":""},"items":[{"contentId":"ae76f539-30e0-4d4d-9d7a-3ee3c620cca4","contentType":"Recipe","title":"Easy Granola Apple Crisp","isFavorite":false,"linkUrl":"/recipes/easy-granola-apple-crisp/ae76f539-30e0-4d4d-9d7a-3ee3c620cca4","numberOfRatings":"0","averageRating":"0","averageRatingStars":"0","smallImageUrl":"https://s3.amazonaws.com/gmi-digital-library/8bdac1ab-fd70-4ff0-a50d-7013e678ba29.jpg","mediumImageUrl":"https://s3.amazonaws.com/gmi-digital-library/33a1efeb-1693-49ce-bca8-6b3753048cbf.jpg"},{"contentId":"58af93cc-ce0c-41d7-9c5e-65a6ade75c4e","contentType":"Recipe","title":"Apple Crisp","isFavorite":false,"linkUrl":"/recipes/apple-crisp/58af93cc-ce0c-41d7-9c5e-65a6ade75c4e","numberOfRatings":"0","averageRating":"0","averageRatingStars":"0","smallImageUrl":"https://images-gmi-pmc.edge-generalmills.com/e4ae090d-b6c9-44d2-9908-02b05bc09efe.jpg","mediumImageUrl":"https://images-gmi-pmc.edge-generalmills.com/e4ae090d-b6c9-44d2-9908-02b05bc09efe.jpg"},{"contentId":"82cb9500-a86c-4a69-a541-38541302852b","contentType":"Recipe","title":"Healthified Apple Crisp","isFavorite":false,"linkUrl":"/recipes/healthified-apple-crisp/82cb9500-a86c-4a69-a541-38541302852b","numberOfRatings":"0","averageRating":"0","averageRatingStars":"0","smallImageUrl":"https://s3.amazonaws.com/gmi-digital-library/4248f54e-c41e-4420-8199-bb8f7ba377c9.jpg","mediumImageUrl":"https://s3.amazonaws.com/gmi-digital-library/4248f54e-c41e-4420-8199-bb8f7ba377c9.jpg"},{"contentId":"20a427c8-c36d-4eae-95b7-c19bbc45d600","contentType":"Recipe","title":"Apple-Cherry Crisp","isFavorite":false,"linkUrl":"/recipes/apple-cherry-crisp/20a427c8-c36d-4eae-95b7-c19bbc45d600","numberOfRatings":"0","averageRating":"0","averageRatingStars":"0","smallImageUrl":"/-/media/GMI/Core-Sites/LMD/legacy/Images/LMD/Recipes/apple-cherry-crisp-4x3.jpg?MW=276","mediumImageUrl":"/-/media/GMI/Core-Sites/LMD/legacy/Images/LMD/Recipes/apple-cherry-crisp-4x3.jpg?MW=500"},{"contentId":"b6758f60-bcc2-40f9-9e5c-b2c3866cdb01","contentType":"Recipe","title":"Microwave Apple Crisp","isFavorite":false,"linkUrl":"/recipes/microwave-apple-crisp/b6758f60-bcc2-40f9-9e5c-b2c3866cdb01","numberOfRatings":"0","averageRating":"0","averageRatingStars":"0","smallImageUrl":"/-/media/GMI/Core-Sites/LMD/legacy/Images/LMD/Recipes/Microwave-Apple-Crisp_4x3.jpg?MW=276","mediumImageUrl":"/-/media/GMI/Core-Sites/LMD/legacy/Images/LMD/Recipes/Microwave-Apple-Crisp_4x3.jpg?MW=500"},{"contentId":"09e0fb63-b33e-4440-a2dc-7d48d7aec8f9","contentType":"Recipe","title":"Caramel-Apple Crisp","isFavorite":false,"linkUrl":"/recipes/caramel-apple-crisp/09e0fb63-b33e-4440-a2dc-7d48d7aec8f9","numberOfRatings":"0","averageRating":"0","averageRatingStars":"0","smallImageUrl":"https://s3.amazonaws.com/gmi-digital-library/02df09f0-7554-4df8-bdf3-bdc0c41ebb89.jpg","mediumImageUrl":"https://s3.amazonaws.com/gmi-digital-library/54b29e52-940d-4ffb-ab9b-c01610af9774.jpg"}],"availableItems":[{"contentId":"ae76f539-30e0-4d4d-9d7a-3ee3c620cca4","contentType":"Recipe","title":"Easy Granola Apple Crisp","isFavorite":false,"linkUrl":"/recipes/easy-granola-apple-crisp/ae76f539-30e0-4d4d-9d7a-3ee3c620cca4","numberOfRatings":"0","averageRating":"0","averageRatingStars":"0","smallImageUrl":"https://s3.amazonaws.com/gmi-digital-library/8bdac1ab-fd70-4ff0-a50d-7013e678ba29.jpg","mediumImageUrl":"https://s3.amazonaws.com/gmi-digital-library/33a1efeb-1693-49ce-bca8-6b3753048cbf.jpg"},{"contentId":"58af93cc-ce0c-41d7-9c5e-65a6ade75c4e","contentType":"Recipe","title":"Apple Crisp","isFavorite":false,"linkUrl":"/recipes/apple-crisp/58af93cc-ce0c-41d7-9c5e-65a6ade75c4e","numberOfRatings":"0","averageRating":"0","averageRatingStars":"0","smallImageUrl":"https://images-gmi-pmc.edge-generalmills.com/e4ae090d-b6c9-44d2-9908-02b05bc09efe.jpg","mediumImageUrl":"https://images-gmi-pmc.edge-generalmills.com/e4ae090d-b6c9-44d2-9908-02b05bc09efe.jpg"},{"contentId":"82cb9500-a86c-4a69-a541-38541302852b","contentType":"Recipe","title":"Healthified Apple Crisp","isFavorite":false,"linkUrl":"/recipes/healthified-apple-crisp/82cb9500-a86c-4a69-a541-38541302852b","numberOfRatings":"0","averageRating":"0","averageRatingStars":"0","smallImageUrl":"https://s3.amazonaws.com/gmi-digital-library/4248f54e-c41e-4420-8199-bb8f7ba377c9.jpg","mediumImageUrl":"https://s3.amazonaws.com/gmi-digital-library/4248f54e-c41e-4420-8199-bb8f7ba377c9.jpg"},{"contentId":"20a427c8-c36d-4eae-95b7-c19bbc45d600","contentType":"Recipe","title":"Apple-Cherry Crisp","isFavorite":false,"linkUrl":"/recipes/apple-cherry-crisp/20a427c8-c36d-4eae-95b7-c19bbc45d600","numberOfRatings":"0","averageRating":"0","averageRatingStars":"0","smallImageUrl":"/-/media/GMI/Core-Sites/LMD/legacy/Images/LMD/Recipes/apple-cherry-crisp-4x3.jpg?MW=276","mediumImageUrl":"/-/media/GMI/Core-Sites/LMD/legacy/Images/LMD/Recipes/apple-cherry-crisp-4x3.jpg?MW=500"},{"contentId":"b6758f60-bcc2-40f9-9e5c-b2c3866cdb01","contentType":"Recipe","title":"Microwave Apple Crisp","isFavorite":false,"linkUrl":"/recipes/microwave-apple-crisp/b6758f60-bcc2-40f9-9e5c-b2c3866cdb01","numberOfRatings":"0","averageRating":"0","averageRatingStars":"0","smallImageUrl":"/-/media/GMI/Core-Sites/LMD/legacy/Images/LMD/Recipes/Microwave-Apple-Crisp_4x3.jpg?MW=276","mediumImageUrl":"/-/media/GMI/Core-Sites/LMD/legacy/Images/LMD/Recipes/Microwave-Apple-Crisp_4x3.jpg?MW=500"},{"contentId":"09e0fb63-b33e-4440-a2dc-7d48d7aec8f9","contentType":"Recipe","title":"Caramel-Apple Crisp","isFavorite":false,"linkUrl":"/recipes/caramel-apple-crisp/09e0fb63-b33e-4440-a2dc-7d48d7aec8f9","numberOfRatings":"0","averageRating":"0","averageRatingStars":"0","smallImageUrl":"https://s3.amazonaws.com/gmi-digital-library/02df09f0-7554-4df8-bdf3-bdc0c41ebb89.jpg","mediumImageUrl":"https://s3.amazonaws.com/gmi-digital-library/54b29e52-940d-4ffb-ab9b-c01610af9774.jpg"}]}}; var moduleName = 'relatedContent'; var isVueModule = true; GeneralMills.PandoSites.RegisterControlInstance(moduleName, configuration, componentMetadata, isVueModule) }); })(); (function() { document.addEventListener('DOMContentLoaded', function() { var componentMetadata = JSON.parse('\x7b\x22componentName\x22\x3a\x22RelatedContent_74e3bdbb-f484-42fd-88a7-8557cf6c6185\x22,\x22deferOptions\x22\x3a\x7b\x22deferComponent\x22\x3atrue,\x22deferType\x22\x3a\x22OnDemand\x22,\x22deferId\x22\x3a\x22ra1f6be0a46bd430b9fedc07856b0a6dd\x22,\x22deferredContainerId\x22\x3a\x22\x2fmain\x2frdpRelatedContent1\x22,\x22deferredContainerView\x22\x3a\x22RecipeDetail\x22\x7d,\x22viewName\x22\x3a\x22RelatedContent\x22\x7d'); var configuration = {"dataSourceId":"74e3bdbb-f484-42fd-88a7-8557cf6c6185","isCurrentUserAnonymous":true,"relatedContentList":{"contentId":"7b672e11-273f-4100-8f8d-2ebb20c1e6e2","listSettings":{"pageSize":3,"startPage":1,"listType":1,"title":"Explore Categories","useModalRegistration":false,"regAction":"","esrcCode":0,"favoriteButtonLabelFormat":"Add {0} to favorites","contentTypes":["Category"],"showImages":false,"showRatings":false,"allowFavoriting":false,"cssClassName":"relatedContentWithoutImages"},"items":[{"contentId":"53194335-01df-4f95-82b1-33b34881474d","contentType":"Category","title":"Dessert","isFavorite":false,"linkUrl":"/collections/meal-occassions/dessert","numberOfRatings":"0","averageRating":"0","averageRatingStars":"0","smallImageUrl":"/-/media/GMI/Core-Sites/LMD/legacy/Images/LMD/Recipes/Reeses-Peanut-Butter-Cup-Cookie-Skillet_16x9.jpg?W=276","mediumImageUrl":"/-/media/GMI/Core-Sites/LMD/legacy/Images/LMD/Recipes/Reeses-Peanut-Butter-Cup-Cookie-Skillet_16x9.jpg?W=680"},{"contentId":"4a563689-77f6-4dde-a4f6-83cdca16219c","contentType":"Category","title":"Dessert Recipes","isFavorite":false,"linkUrl":"/recipe-categories/meal-type/desserts","numberOfRatings":"0","averageRating":"0","averageRatingStars":"0","smallImageUrl":"/-/media/GMI/Core-Sites/LMD/legacy/Images/LMD/Recipes/Lemon-Cream-Cheese-Bundt-Cake-with-Lemon-Glaze-16x9.jpg?W=276","mediumImageUrl":"/-/media/GMI/Core-Sites/LMD/legacy/Images/LMD/Recipes/Lemon-Cream-Cheese-Bundt-Cake-with-Lemon-Glaze-16x9.jpg?W=680"}],"availableItems":[{"contentId":"53194335-01df-4f95-82b1-33b34881474d","contentType":"Category","title":"Dessert","isFavorite":false,"linkUrl":"/collections/meal-occassions/dessert","numberOfRatings":"0","averageRating":"0","averageRatingStars":"0","smallImageUrl":"/-/media/GMI/Core-Sites/LMD/legacy/Images/LMD/Recipes/Reeses-Peanut-Butter-Cup-Cookie-Skillet_16x9.jpg?W=276","mediumImageUrl":"/-/media/GMI/Core-Sites/LMD/legacy/Images/LMD/Recipes/Reeses-Peanut-Butter-Cup-Cookie-Skillet_16x9.jpg?W=680"},{"contentId":"4a563689-77f6-4dde-a4f6-83cdca16219c","contentType":"Category","title":"Dessert Recipes","isFavorite":false,"linkUrl":"/recipe-categories/meal-type/desserts","numberOfRatings":"0","averageRating":"0","averageRatingStars":"0","smallImageUrl":"/-/media/GMI/Core-Sites/LMD/legacy/Images/LMD/Recipes/Lemon-Cream-Cheese-Bundt-Cake-with-Lemon-Glaze-16x9.jpg?W=276","mediumImageUrl":"/-/media/GMI/Core-Sites/LMD/legacy/Images/LMD/Recipes/Lemon-Cream-Cheese-Bundt-Cake-with-Lemon-Glaze-16x9.jpg?W=680"}]}}; var moduleName = 'relatedContent'; var isVueModule = true; GeneralMills.PandoSites.RegisterControlInstance(moduleName, configuration, componentMetadata, isVueModule) }); })();
(function() { document.addEventListener('DOMContentLoaded', function() { var componentMetadata = JSON.parse('\x7b\x22componentName\x22\x3a\x22DoubleClick_fc1638cc-1e2b-4009-91c0-4b3128b002dd\x22,\x22deferOptions\x22\x3a\x7b\x22deferComponent\x22\x3atrue,\x22deferType\x22\x3a\x22OnDemand\x22,\x22deferId\x22\x3a\x22ra2c0b3673dfb48758b27491c1de758ff\x22,\x22deferredContainerId\x22\x3a\x22\x2fmain\x2frdpSecondaryAd\x22,\x22deferredContainerView\x22\x3a\x22DoubleClick\x22\x7d,\x22viewName\x22\x3a\x22DoubleClick\x22\x7d'); var configuration = {"adId":"lmd/recipes_300x250_bottom","minPageWidth":"1000","maxPageWidth":"9999","defaultMinPageWidth":"1000","defaultMaxPageWidth":"9999","size":"[[300,250], [300,600]]","refreshWhenViewed":false,"adContainerId":"72c57b94-7568-4af8-83c3-9ff31904c3be","doubleClickAdContainerId":"5bbda427-3e38-44e1-a48d-7c49d4bca6a8","adCaptionText":"Advertisement","networkCode":"/21727793496/","relevantMetadata":["Bake","Dessert"],"privacyOptOut":false,"continuesBelowText":"Recipe Continues Below"}; var moduleName = 'doubleClick'; var isVueModule = true; GeneralMills.PandoSites.RegisterControlInstance(moduleName, configuration, componentMetadata, isVueModule) }); })();
(function() { document.addEventListener('DOMContentLoaded', function() { var componentMetadata = JSON.parse('\x7b\x22componentName\x22\x3a\x22DoubleClick_ff3502ca-24ae-487a-a7ad-92fe03fbaffd\x22,\x22deferOptions\x22\x3a\x7b\x22deferComponent\x22\x3atrue,\x22deferType\x22\x3a\x22OnDemand\x22,\x22deferId\x22\x3a\x22r92a68541435043d7a02f5dce7cf9d8d7\x22,\x22deferredContainerId\x22\x3a\x22\x2fmain\x2frdpSecondaryAd\x22,\x22deferredContainerView\x22\x3a\x22DoubleClick\x22\x7d,\x22viewName\x22\x3a\x22DoubleClick\x22\x7d'); var configuration = {"adId":"lmd/recipes_728x90_bottom","minPageWidth":"768","maxPageWidth":"999","defaultMinPageWidth":"1000","defaultMaxPageWidth":"9999","size":"[[728, 90], [970, 90]]","refreshWhenViewed":false,"adContainerId":"e25d3564-3915-4365-9d00-4ea5f1bafe0b","doubleClickAdContainerId":"a7aa892c-523c-4d55-829e-e72f7facfb47","adCaptionText":"Advertisement","networkCode":"/21727793496/","relevantMetadata":["Bake","Dessert"],"privacyOptOut":false,"continuesBelowText":"Recipe Continues Below"}; var moduleName = 'doubleClick'; var isVueModule = true; GeneralMills.PandoSites.RegisterControlInstance(moduleName, configuration, componentMetadata, isVueModule) }); })();
(function() { document.addEventListener('DOMContentLoaded', function() { var componentMetadata = JSON.parse('\x7b\x22componentName\x22\x3a\x22DoubleClick_947ab954-6a69-4303-8713-83bad2e339e2\x22,\x22deferOptions\x22\x3a\x7b\x22deferComponent\x22\x3atrue,\x22deferType\x22\x3a\x22OnDemand\x22,\x22deferId\x22\x3a\x22r7ec18b592650475cb33cadacd7ab2c8a\x22,\x22deferredContainerId\x22\x3a\x22\x2fmain\x2frdpSecondaryAd\x22,\x22deferredContainerView\x22\x3a\x22DoubleClick\x22\x7d,\x22viewName\x22\x3a\x22DoubleClick\x22\x7d'); var configuration = {"adId":"m_lmd/recipes_300x250_bottom","minPageWidth":"299","maxPageWidth":"767","defaultMinPageWidth":"1000","defaultMaxPageWidth":"9999","size":"[[300,250], [300,600]]","refreshWhenViewed":false,"adContainerId":"ea1eb38f-92dc-4239-aa99-76b35c6011e4","doubleClickAdContainerId":"a38f698c-2a17-4b80-9153-30484fc4015b","adCaptionText":"Advertisement","networkCode":"/21727793496/","relevantMetadata":["Bake","Dessert"],"privacyOptOut":false,"continuesBelowText":"Recipe Continues Below"}; var moduleName = 'doubleClick'; var isVueModule = true; GeneralMills.PandoSites.RegisterControlInstance(moduleName, configuration, componentMetadata, isVueModule) }); })();
(function() { document.addEventListener('DOMContentLoaded', function() { var componentMetadata = JSON.parse('\x7b\x22componentName\x22\x3a\x22NewsletterCTA_ec03e9a8-76e8-46ba-af4e-f8f0f854889f\x22,\x22deferOptions\x22\x3a\x7b\x22deferComponent\x22\x3atrue,\x22deferType\x22\x3a\x22OnDemand\x22,\x22deferId\x22\x3a\x22rf319fc1c64034bb8bc67f73a876e0287\x22,\x22deferredContainerId\x22\x3a\x22\x2fmain\x2frdpInlineSubscriber\x22,\x22deferredContainerView\x22\x3a\x22RecipeDetail\x22\x7d,\x22viewName\x22\x3a\x22NewsletterCTA\x22\x7d'); var configuration = {"unsubscribedNewsletters":[{"listId":"0caa9ec7-a957-48fb-8a20-8a7c557ba9b8","thumbnailImageUrl":"/-/media/GMI/Core-Sites/LMD/Images/Newsletters/LMDLogo.jpg","previewUrl":"https://www.lifemadedelicious.ca/PreviewNewsletter","name":"LMD Newsletter","isPromo":false}],"settings":{"anonymousCopy":"Sign up for our newsletter","anonymousDescriptionCopy":"Get the latest recipes, tips and meal solutions sent straight to you.","anonymousThankYouCopy":"Thanks! Your First Email is on its Way","anonymousThankYouDescriptionCopy":"Now that you\u0027re on our email list, become a full member of LifeMadeDelicious.ca! Members can save their favorite recipes, print coupons and more.","anonymousButtonText":"Sign Up","anonymousEmailInvalidErrorText":"Please enter a valid email address.","anonymousSubscribeErrorText":"We encountered an error while signing you up. Please try again.","anonymousEmailAddressPlaceholderText":"Enter your email address.","anonymousEmailAddressLabel":"","standardSmallImageUrl":"/-/media/GMI/Core-Sites/LMD/Images/Shared/MyAccount/global-footer-2022.jpg","standardLargeImageUrl":"/-/media/GMI/Core-Sites/LMD/Images/Shared/MyAccount/global-footer-2022.jpg","backgroundColor":"","accentColor":"","registrationUrl":"/user-profile/register?RegAction=SUBSCRIBERUPGRADE\u0026esrc=17262\u0026returnUrl=%2frecipes%2fraspberry-apple-granola-crisp%2f7b672e11-273f-4100-8f8d-2ebb20c1e6e2","registrationLinkText":"Join Free","hideForSessionCookieExpiration":0,"ctaType":"StandardAnonymous","location":"Rail","userState":"Anonymous","sourceCodeOverride":0}}; var moduleName = 'newsletterCta'; var isVueModule = true; GeneralMills.PandoSites.RegisterControlInstance(moduleName, configuration, componentMetadata, isVueModule) }); })();
(function() { document.addEventListener('DOMContentLoaded', function() { var componentMetadata = JSON.parse('\x7b\x22componentName\x22\x3a\x22DoubleClick_895f07c7-f4d9-4222-b3d3-81fc2a216e65\x22,\x22deferOptions\x22\x3a\x7b\x22deferComponent\x22\x3atrue,\x22deferType\x22\x3a\x22OnDemand\x22,\x22deferId\x22\x3a\x22r3f16aff7492241a5bd8800c8d3070fc4\x22,\x22deferredContainerId\x22\x3a\x22\x2fmain\x2frdpTernaryAd\x22,\x22deferredContainerView\x22\x3a\x22DoubleClick\x22\x7d,\x22viewName\x22\x3a\x22DoubleClick\x22\x7d'); var configuration = {"adId":"lmd/recipe_300x250_bottom2","minPageWidth":"1000","maxPageWidth":"9999","defaultMinPageWidth":"1000","defaultMaxPageWidth":"9999","size":"[[300,250], [300,600]]","refreshWhenViewed":false,"adContainerId":"8fe10d32-7f79-4516-9e98-5c136617db1f","doubleClickAdContainerId":"94615a82-beaf-483b-b976-4d2b76265f42","adCaptionText":"Advertisement","networkCode":"/21727793496/","relevantMetadata":["Bake","Dessert"],"privacyOptOut":false,"continuesBelowText":"Recipe Continues Below"}; var moduleName = 'doubleClick'; var isVueModule = true; GeneralMills.PandoSites.RegisterControlInstance(moduleName, configuration, componentMetadata, isVueModule) }); })();
(function() { document.addEventListener('DOMContentLoaded', function() { var componentMetadata = JSON.parse('\x7b\x22componentName\x22\x3a\x22ThirdPartyScript_165b319a-cb80-4455-a29f-828fb2f18112\x22,\x22deferOptions\x22\x3a\x7b\x22deferComponent\x22\x3atrue,\x22deferType\x22\x3a\x22OnDemand\x22,\x22deferId\x22\x3a\x22r8710afaf31044b2fb6fbbb8210257aae\x22,\x22deferredContainerId\x22\x3a\x22\x2fmain\x2frdpZergnet2\x22,\x22deferredContainerView\x22\x3a\x22ThirdPartyScript\x22\x7d,\x22viewName\x22\x3a\x22ThirdPartyScript\x22\x7d'); var configuration = {"placeholderName":"rdpZergnet2","domContent":"\u003cdiv id=\u0022external-content-container-49052\u0022\u003e\u003cdiv id=\u0022zergnet-widget-49052\u0022\u003e\u003c/div\u003e\u003c/div\u003e","scriptContent":"//www.zergnet.com/zerg.js?id=49052","onLoadScript":""}; var moduleName = 'thirdPartyScript'; var isVueModule = true; GeneralMills.PandoSites.RegisterControlInstance(moduleName, configuration, componentMetadata, isVueModule) }); })();